SMARTOP ACRYLIC ADHESIVE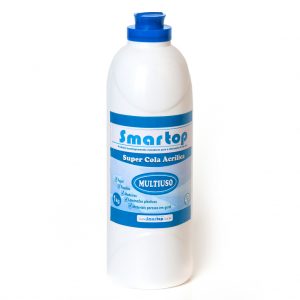 TECHNICAL CHARACTERISTICS
The Smartop Acrylic Adhesive does everything the universal white glue does, but the Smart Adhesive it performs better, it has a better water resistant, faster cure and offers greater resistance in bonding.
The Smart Adhesive is an Acrylic resin based adhesive very easy to use.
Important properties like high bonding performance have on its composition, was properly developed for bonding high strength, but mainly for artifacts made of wood, paper, cardboard, plastic laminates, can be applicable in many different substrates.
WHERE TO USE
Wood, paper, cardboard, plastic laminates also can be applicable in many different substrates.
APPLICATION AND RECOMMENDATIONS
Application
In order for the expected result to be achieved, it is necessary to prepare the surfaces to be bonded before application. The applied area must be clean, flat, and dry with moisture content between 5% and 10%.
After checking that the surfaces are actually according to the guidelines mentioned above, the product can be applied as follows: Apply the adhesive to one of the surfaces in even layers, and join the parts immediately, before the superficies become dry.
The application can be made through automatic way or manually using a brush, Paintbrush, roller, etc.
For best results the pressing procedure should be done immediately after the product application, it be can be done cold or hot.
Note
It is recommended not to exceed the five minute the press time of the material thus avoiding the early drying of the product.
Apply the product in a ventilated place.
Do not use another container to transfer the product.
For safety, during the application it is recommended use a safety glasses, and gloves.
YIELD
Depending on the material to be bonded, it can vary; in general can consider 300g/m2.
DRYING TIME
Initial time: 2 hours approximately.
Final time: 24 hours (may vary depending on amount applied and ambient temperature).
STORAGE
Storage of Acrylic adhesive should be made in its original packaging observing the ambient temperature that should be between 10° to 40° Celsius degrees and weatherproof place.
PACKAGING
1 Liter Bottle.
COMPOSITION
Acrylic resin, thickeners, biocides and mineral filler. Water Based Product.
SAFETY INSTRUCTIONS FOR PREPARATION AND APPLICATION
Reusing the empty packaging is not recommended.
In case of contact with eyes, rinse immediately with plenty of water.
In case of contact with skin, wash with soap and water.
If swallowed, seek medical advice immediately and show this container or label.
Seek medical attention by handling the product packaging.
Keep out of reach of children and animals.
Leftovers should not be returned to the original packaging after opening to avoid contamination.
Products in the online Store