SMARTHERM – THERMAL INSULATING PAINT – FOR WALLS, SLABS AND ROOFING – EXTERNAL USE (3,6 LITERS BUCKET)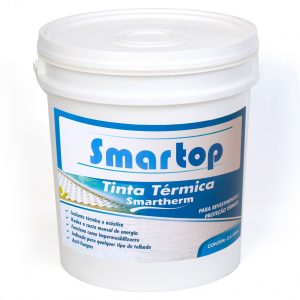 TECHNICAL CHARACTERISTICS
Smartop Smartherm Thermal Paint acts through the reflection of solar radiation. Once applied, this product forms an elastomeric protective film which transforms the wall, slab or roof into a thermally reflective surface that reflects about 90% of the solar rays, reducing the internal temperature of the environment by up to 8° Celsius.
Smartop Smartherm Thermal Paint is a water-based product and its composition containing acrylic resin, which provides low thermal conductivity and high reflectance. Therefore, it is able to reflect much of the solar radiation and prevent it from being converted into heat. 
Smartherm prevents the effects the heat flux by conduction and radiation on walls and roof coverings of various material types, reducing the internal temperature of the environment and ensuring a lower energy cost and greater environmental comfort.
Smartherm is a high performance, low maintenance product which ensures low dirt and mildew build up. Thus, it results more efficiently and durable insulation performance than that conventional coatings.
WHERE TO USE
Smartherm is suitable for use in external areas exposed to solar radiation, such as Concrete, fiber cement, asbestos, metal, fiber, ceramic and plastic roofs with the exception of polyethylene material; sheds; warehouses; residences; tanks; silos; supermarkets; shopping's centers; farms and refrigerators; containers; buses and trunks. This product can serve on several segments such as Civil Construction; Business; Industries and Hospitals. 
BENEFITS
Smartop Smartherm Thermal coating provides:
Thermal insulation;
Soundproofing;
Reduction of the ambient temperature.
NOTE
On metal surfaces with galvanized treatment, it is necessary to apply one coat of preparing primer before painting.
INSTRUCTIONS FOR PREPARATION AND APPLICATION
Smartop Thermal coating should not be applied when there are strong wind currents, or when the surface that will receive the product is dirty or humid. The surface that will be coated must be clear from dirt, dry and sanded. There should not be any kind of grease, rust, dust, luster, old paint residue, and rubber particles. It is recommended do not interrupt the application in the middle of the surface.
Application
First step: The surface that will receive Smartherm – Smartop Thermal coating must be sanitized through hydro blasting system to remove any fungi, loose parts or other substances that may interfere with the final product result.
Second step: When the surface is totally dry, need applies 4  coats of Smartherm on the crosswise way, it's necessary a minimum interval of 4 hours between each coat and should wait to be completely dry before the next application.  Use a paintbrush, roller or brush to apply. 
COMPOSITION
Product based on titanium dioxide, acrylic emulsion, inert additives, glass microspheres, thickener, and microbicides.
YIELD
Yields up to 24 square meters per coat. 
DRYING TIME
The total drying time is 72 hours. 
STORAGE
The product should be in a covered storage facility, in a cool, dry and ventilated place. It should not be stored in hot or humid areas.
Avoid excessive stacking. This product should be stacked in a maximum of 3 layers of buckets on the pallet, otherwise, the packaging may deform.
This product is not flammable. In case of fire, extinguishers of carbon dioxide or dry chemical should be used. 
PRODUCT VALIDITY
12 months from the date of manufacture. 
SAFETY INSTRUCTIONS FOR PREPARATION AND APPLICATION
Reusing the empty packaging is not recommended.
The product should be in a covered storage facility in a cool, dry and ventilated place.
Should keep out of reach of children and animals.
In case swallowed or inhalation do not induce vomiting and, seek medical advice immediately, and show that product container or label.
In case of contact with eyes, rinse immediately with plenty of water for 15 minutes, and seek medical advice.
After contact with skin, wash immediately with plenty of water for 15 minutes and mild soap hand; if skin irritation occurs seek medical attention.
Videos
Products in the online Store