SMARTCAL – PLASTICIZER ADDITIVE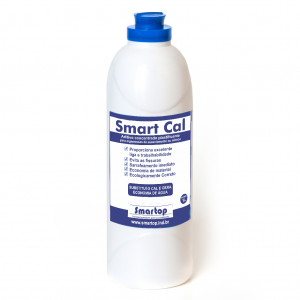 TECHNICAL CHARACTERISTICS
The Smartop SmartCal is a plasticizer concentrate additive that replaces lime in the preparation of laying or grouting mortars. It is a liquid form product and, therefore, makes the work more practical and guarantees the material savings and an excellent finish. It also streamlines the work, since mortars prepared with SmartCal do not need to be tanned.
This product when added to sand and cement acts as a plasticizer, providing excellent alloy and workability, better cohesion and less exhaustion, avoiding the appearance of cracks by retraction, as it acts to break the surface tension of the water, which also, significantly reduces the consumption.
WHERE TO USE
Mortars for laying bricks and blocks.
Mortars for conventional plastering.
PREPARE THE MIX AS FOLLOWS:
To prepare the mortar mixture in concrete mixer, you must have to using fine and clean sand.
Blend the mix as follows:
Pour 50% that amount of water expected on an empty and clean concrete mixer then add the quantity of SmartCal indicated and mix well, after adding the cement and the washed sand medium texture then add the rest of the water that is necessary to give alloy and workability to the mortar. Mix the mortar in a mixer for at least 4 minutes which is the time required to ensure the homogeneity of the mortar.
RECOMMENDATIONS
Recommended Ratio:
Cement: Sand
Settlement: up to 1:6
Internal and external plastering: up to 1:6.
For further information about the application of our product please consult our website: www.smartop.pt.
We highly recommend preliminary tests, under the same real conditions of work, to determine the compatibility of the product with the cement to be used.
It is recommended use fine-graded sand, (In Brazil we recommends to use Portland cement CPII) because it depends on the grading of the sand, and that type of cement when with high additions contents, can alter the performance of this product causing loss of resistance and cracking of the mortar.
The product must be homogenized for its use, regardless of whether it is done mechanically or manually.
For your safety, Personal Protective Equipment should be used: safety glasses, PVC apron, and rubber gloves.
CONSUMPTION
50ml/bag of cement (50Kg).
Note: To make a ratio that takes 1 (one) bag of cement, the dosage should not exceed 50 ml of the product. However, dosage can be adjusted according to each type of project.
PACKAGING
1 Liter Bottle.
STORAGE
The product should be in a covered storage facility in a cool, dry and ventilated place.  Should be keep out of reach of children, animals and away out from heat sources.
SAFETY INSTRUCTIONS FOR PREPARATION AND APPLICATION
In case of contact with eyes, rinse immediately with plenty of water for 15 minutes, keeping eyelids well raised and seek medical advice.
After contact with skin, wash immediately with plenty of water and mild soap.
If irritation persists, seek medical attention.
In case of inhalation: Remove to a ventilation area.
If swallowed, seek medical advice immediately and show that product container or label.
In case of Ingestion: Do not induce vomiting. If gastrointestinal symptoms develop, seek medical advice.
In case of spillage or leakage, contamination of surface waters, springs or soils, contact the company through the website: www.smartop.ind.br
Dispose of contents/container to an appropriate treatment and disposal facility in accordance with applicable laws and local regulations.
WARNING
This product may cause stains on porous surfaces, such as floors. It should be avoided to drain. The work area should be protected with plastic canvas.
This product may cause allergic skin reactions. The label must be observed before using this product.
Please refer to the current version of the Technical Data Sheet, available upon request from our website (www.smartop.pt).
Videos
Products in the online Store