SMARTOP LIQUID WATERPROOFING MEMBRANE – EXTERNAL USE (3,6 BUCKET)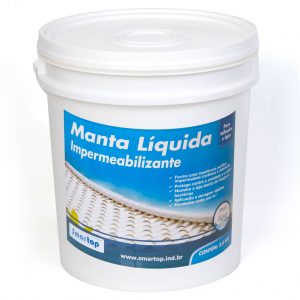 SMARTOP Liquid waterproofing membrane – EXTERNAL USE – (3,6KG bucket)
TECHNICAL CHARACTERISTICS
The Smartop Liquid Waterproofing  Membrane is an elastomeric waterproofing agent that is easy and quick to apply for Roofs and Slabs. The application is carried out in the cold as if it were a painting. This is a product composed of polymers that form an impermeable, continuous and adherent acrylic membrane when the product is applied.
WHERE TO USE
This product is appropriate for waterproofing of several types of roofs and slabs that are exposed, as well as wet areas such as bathrooms, kitchens, balconies, verandas and terraces.
BENEFIT
Practical and quick application, cold done with roller or brush;
Fast drying;
Flexible;
Highly resistant to moisture and heat;
Can receive direct application of adhesive mortar;
Keeps slab free of fungi and bacteria;
Provides great final finish, with perfect uniformity and coverage;
Excellent cost per square meter.
PACKAGING
3,6kg Bucket.
INSTRUCTIONS FOR PREPARATION AND APPLICATION 
Recommendations
This product should not be applied when there are strong wind currents, when the application temperature is changed or when the surface that will receive the product is dirty or humid.
The surface to be waterproofed should be clear from dirt, dry and clean and the area must be sanded. There should not be any kind of grease, rust, dust, old paint residue or rubber. The application should not be interrupted until the entire surface is received the product.
Dilution
First coat: maximum dilution of 5%
Other coatings: do not dilute
Roofs: 3 coats.
Slabs: 3 coats.
Application
To achieve the best possible result, the surface to be waterproofed must be totally clean. There should not showing no trace of oils, release agents, greases, cement creams or any lose patches on the surface.
Prior to application, the product should be mixed with a wooden rod that reaches the bottom of the bucket.
The surface to be waterproofed should have flow towards the drains, the corners should be rounded and the floor must be high strength, have good absorption capacity and be completely dry to receive the application of the product.
Cracks and Fissures
Prior to application, cracks and fissures should be cleaned and treated. After drying, with a brush must be applied two coats of the Smartop Liquid Waterproofing Membrane with polyester mesh reinforcement in the 20 cm range.
Priming
Apply the Smartop Liquid Waterproofing Membrane diluted to 10%. The application should be done with brush, sheep wool roller, brush, brush or broom of soft hair in three coats, as reinforcement in the corners and drains after the first coat should be placed Industrial strip of polyester screen.
Next, the industrial screen strip must be stretch well, leaving it free of wrinkles, and should be applied two more coats for full-screen coverage. The drying interval in between the coats is around 3 to 4 hours and must be strictly followed, but may vary according to humidity and the environment temperature.
Waterproofing exposed areas
The Smartop Liquid Waterproofing Membrane is highly UV and weathering resistant. This product is only suitable for light traffic surfaces, must be observed the minimum trim of 2% in relation to the drains to ensure that there is no puddling on the waterproofed slab. Where cracks or open joints exist, they should be sealed with suitable tape before applying this product.
Rails, Baseboards and Cross-sections
To waterproofing Rails, baseboards and cross-sections, it should rise 30cm above the level of the finished floor, advancing on the baseboards and elements. In order to achieve the desired result, the drains and through elements must be securely fastened and sealed with a polyurethane elastic sealant cord and the surroundings of the drain and corners should be reinforced with polyester fabric.
COMPOSITION
Product based on acrylic emulsion, mineral fillers, titanium dioxide, additives, thickeners and microbicides. Monocomponent.
COLOUR 
White.
DRYING TIME 
The total drying time is 72 hours. After this period the space is ready for use.
CONSUMPTION
Approximate consumption of 1.0 kg /m².
THICKNESS
Dry film thicknes from 250 μm to 500 μm.
Storage
The package must be kept closed. Storage should be done in a covered, cool and ventilated place. This product should be stacked in a maximum of 3 layers of buckets on the pallet. It should not be stored in hot or humid places.
Note:
This product is not flammable. The packaging can be affected by deformation in case of excessive stacking. In case of fire, extinguishers of carbon dioxide or dry chemical should be used. Take care of the environment!
Fire-fighting wastewater and dilution water may cause pollution and should be treated before discarding. Do not allow runoff to streams, rivers or sewers.
PRODUCT VALIDITY
12 months from the date of manufacture.
SAFETY INSTRUCTIONS FOR PREPARATION AND APPLICATION
Reusing the empty packaging is not recommended.
The product should be in a covered storage facility in a cool, dry and ventilated place.  Should be keep out of reach of children, animals and away out from heat sources.
If swallowed do not induce vomiting and, seek medical advice immediately, and show this container or label.
In case of contact with eyes, rinse immediately with plenty of water for 15 minutes, and seek medical advice.
After contact with skin, wash immediately with plenty of water for 15 minutes and mild soap hand; if skin irritation occurs seek medical attention.
Videos
Products in the online Store